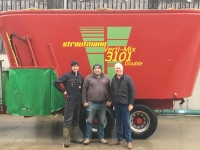 We are hosting a Strautmann Tub feeder demo day on Tuesday 3rd December in conjunction with Strautmann importer, IAM Machinery, at the Steele family's dairy farm at 32 Rowreagh Road, Kircubbin, Co. Down BT22 1AS starting at 11:30am and finishing at 2.30pm.
We are very grateful to William, Rosemary, Thomas and Samuel for their willingness to host this event.
At the demo day will be a Strautmann Verti-mix 2401 twin auger tub feeder with the new V-conveyor and a Verti-mix 1401 single auger tub feeder with a straw blower along with Steele's own Strautmann Verti-mix 3101.
All new Strautmann tub feeders come with the Vario2 stepped auger which helps to reduce mixing time, reduce fuel usage and improve the nutritional intake.
We are looking forward to showcasing these Strautmann machines on the day and invite you to come along and see their benefits for yourself.